🏀 OUR WORK IN THE COMMUNITY 🏀
Small changes can make a BIG difference. Whether it's putting up nets on hoops, running coaching sessions or doing motivational interviews on instagram, we're here to help the community be positive and motivated through 3x3 basketball and community initiatives.
​
Check out some of the stuff we've done in the past years (yes, even during Covid!).
​
​
Regenerating Courts with #NothingButNetLDN
We partnered with Basketball England's "ProjectSwish" team to create the "NothingButNetLDN" challenge. We went all over London putting nets up on courts that needed them. A net can help a player's aim improve, it stops the ball rolling away and it makes the whole court and park so much better to look at.
​
Check out some of the numbers!
Volunteers: 14

Modes of transport: 7 different cars, 1 minibus, several train journeys (not including people getting to me and one chap coming from Portsmouth for it!)

Courts: 31

Nets: 76

Miles: 192

Hours putting up nets: 73.5

Cable ties: Just over 1,000

Rolls of tape: 900m of tape (not sure how many metres were in each roll)

Present and future swishes to be made and happy people all over: Gazillions!
The feedback, as you can imagine, was amazing:
​
Happy Baller: "Were you the guys who put up Plaistow Station?"
The GG3x3: "Lister Gardens? If so, yeah that was us"
Happy Baller: "Man I love you guys. Really appreciate it."
Emilio Tomas via Instagram
​
#Ball4Life Clinics and
the #Ball4Life Community Project
We offer coaching for local communities as much as possible and, nearer to the GG3x3 Summer Tournament, run our biggest #Ball4Life Clinic.
Recently, we ran a free clinic for 6-16 year olds at the amazing Nike Regal court, with pro coaches and every young baller getting a free Nike basketball.
​
"I just wanted to say thanks again, in these strange COVID times
it's really appreciated to see people like you really looking out for the youth."
Douglas Ormond, Older brother of #ball4life clinic player
​
This year we managed to secure government funding for a local programme through Sport England and Basketball England's Tackling Inequalities Fund, which we called The #Ball4Life Community Project. It was an amazing experience. Working with three partner organisations, we led and implemented London's first ever cross-borough free basketball programme, to help young people get active after the pandemic.
We coached kids from underpriveledged neighbourhoods and young ballers with learning difficulties in Westminster, Enfield and Kilburn. Now they've tried basketball, they can't stop!
​
A few of the kids want me to find them actual basketball clubs to join so I have to make some enquires...Some of the parents came to watch too...and they're all so grateful that you've created so many opportunities for their kids 🙂🙂🙂
Jo McMillan, Sidings Community Centre Youth Worker
​
Representing the basketball community
Nothing motivates Martin, our founder, more than seeing hoopers being able to hoop! During Covid, a lot of the basketball courts were shut or rims completely removed from backboards. Martin was invited onto the BBC News to discuss the situation and fight the fight for basketball players everywhere so that they could play safely once again.
​
Watch the full BBC News interview here on our instagram page.
Motivating people on social media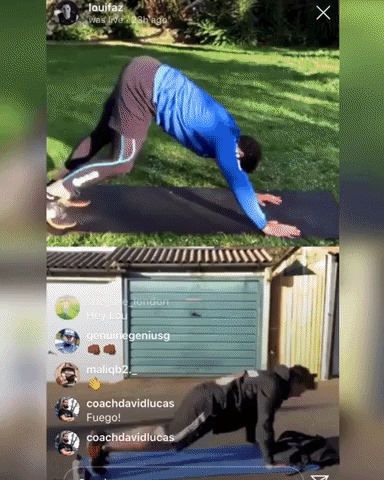 Iso-Fit sessions
​
As lockdown hit, we had to create new ways to reach people and keep everyone motivated. We used Instagram Lives to help everyone stay fit, physically and mentally.
​
14 qualified experts and coaches, from Strength &Conditioning, through to basketball handling, joined Martin on instagram for one-hour Iso-Fit sessions. They taught everyone how to exercise and improve our skills without a gym or court. Also, how to cope mentally with an ongoing pandemic.
​
Check out the GG3x3 Instagram for all the interviews.
Entrepreneurs and basketball
​
Many basketball players are creative and dynamic. This inspired a new series on instagram live called Entrepreneurs and Basketball. A way for people to get some value from the pros. Interviews included GB All-Star and WNBA Champion Temi Fagbenle, Canadian Streetball Pro Joel "King Handles" Haywood, and Streetball Legend and celebrity Larry "Bone Collector" Wiliams.
​
So many people took the amazing advice from the discussions and messaged to say how motivated they felt after each one.
​
Speaking to streetball AND1 legends
​
Back in May pretty much everyone was watching The Last Dance documentary on Netflix. It inspired Martin to look at old SLAM basketball magazines.
We arranged Zoom conversations with a bunch of pro-ballers and AND1 fans from the UK and USA. and this led to a whole series of interviews with the original AND1 Tour players!
Check out the GG3x3 IGTV section for all the interviews.
Giveaways and hospital visits
It's was such a tough year and giving back makes everyone feel good. We've been fortunate enough to have a LOT of items provided over the years and Christmas seemed like the perfect opportunity to give some away!
Firstly, we offered a free LeBron jersey to someone that needed it. An uncle of a girl requiring lots of surgery got in touch and we decided that she deserved to have some positivity and good-will put her way. Check out the full story here.
"Dude, this brought so many happy tears and the note was such a beautiful touch.
You've really made a difference to her outlook!"
Jimmy Tinsley, Autumn's Uncle via Facebook
Then we ran a series of Christmas giveaways. Check out all the videos here, they were very fun to make.

If you tally it up, over the year, in addition to all the general activity, we've given away (approx.) 100 #ball4life wristbands, 35 basketballs, 20 caps, 10 tshirts, 6 NBA and GG3x3 jerseys. It feels good to give back.